8 November 2023 | Dubai | Amanat Holdings PJSC ("Amanat" or the "Company") (DFM symbol: AMANAT), the leading healthcare and education listed investment company, announces its financial results for the nine months ended 30 September 2023 ("9M 2023").
Revenue: grew by 44% year-on-year to AED 495.0 million in 9M 2023, driven by strong performance at the Education platform up more than 2x, boosted by contribution from the recently acquired Human Development Company and record student enrolments at Middlesex University Dubai and 15% growth at the Healthcare platform, driven by the acquisition of Sukoon
EBITDA: increased by 65% year-on-year to AED 173.7 million in 9M 2023, on track to significantly exceed the AED 188 million recorded in full year 2022
 Net Profit: grew by 73% year-on-year to AED 88.2 million in 9M 2023
 Balance sheet: AED 560 million of cash at the period end and low leverage enabling significant financial flexibility to deploy on growth opportunities
Value creation: Market leading assets delivering robust performance with significant GCC expansion plans underway and opportunity to unlock further value through potential monetization events
Commenting on the results, Amanat's Chairman, Hamad Alshamsi, said:
"Following the implementation of our new strategy in late 2020, Amanat has delivered record revenue and profitability. We have successfully exited our minority investments and acquired high quality assets with strong growth potential in long-term care and special education and care needs, enabling the creation of two market leading platforms with robust fundamentals and a high monetization potential. This is reflected in our strong financial performance in the first nine months of 2023, ensuring we're on track to deliver a record set of results for full year 2023.
"Looking forward, we have a clear strategy for growth and value creation. We have an active deployment pipeline focused on K-12 opportunities in the UAE and KSA and continue to explore options to realize significant shareholder value across the portfolio, including through potential monetization events."
Amanat's Acting Chief Executive Officer, John Ireland, added:
"Our portfolio experienced strong growth in the first nine months of 2023, delivering a 44% increase in revenue, driven in particular by our education platform which saw significant student enrolment growth across both our higher education and special needs businesses. This translated through to increased profitability with 9M 2023 EBITDA of AED 173.7 million and Net Profit of AED 88.2 million, up 65% and 73% respectively year-on-year."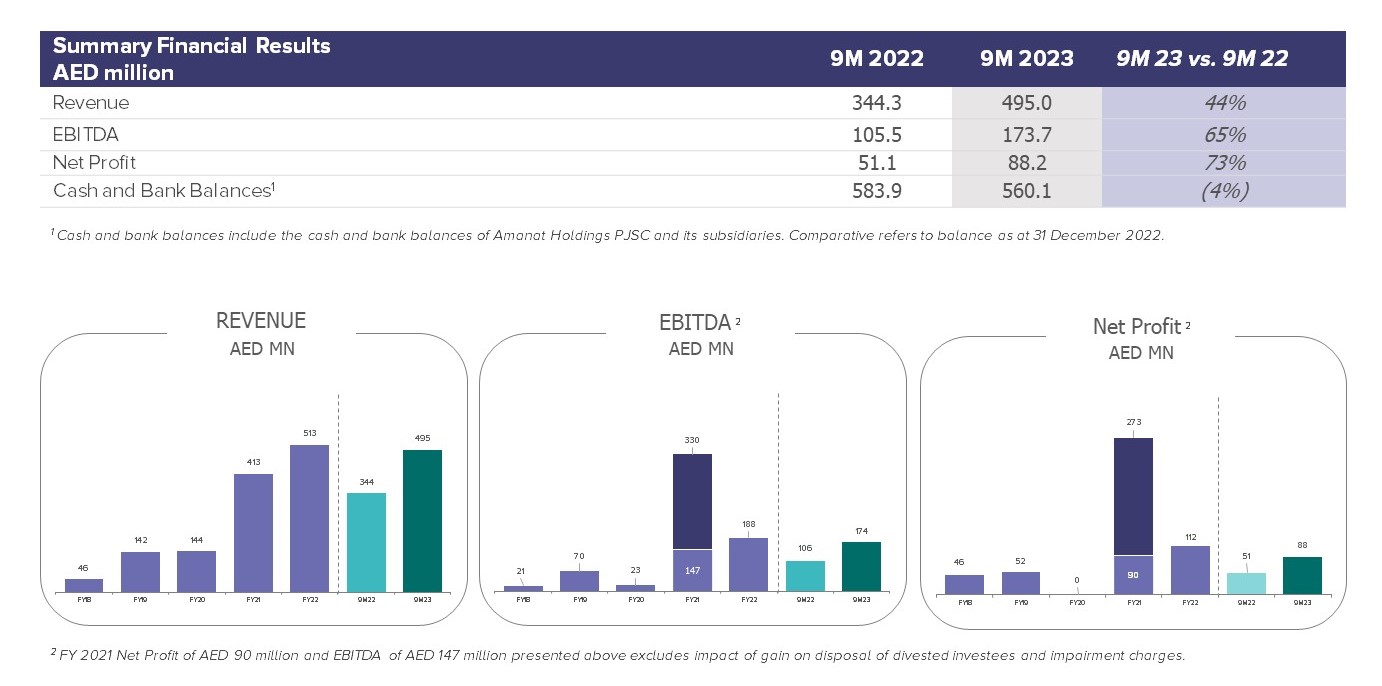 -End-